L.E.A.D.'s Pathway2Empowerment is a year-round, six year model that starts in the 6th grade. Young men are challenged with experiences across LEAD's 4 Pillars of Excellence:
Athletics allows LEAD staff to build trusting relationships with members while teaching the leadership and life skills inherent in athletic development.
Academics:  Because we target young men who are underperforming across grades, attendance and behavior, academic success usually does not come easy for our young men. LEAD staff uses our young men's love for the game of baseball to inspire them to compete academically.
Civic Engagement must become a part of one's DNA in order to develop leaders who have a strong sense of responsibility and commitment to their families and communities. Members of LEAD complete over 2,000 hours of combined community service annually.
Commerce drives the social and economic culture of our communities and world. Having a seat at the table of commercial development is essential to effect positive growth for communities. Through strategic business partnerships, LEAD connects its members with the business community, creating a network and pipeline for future, diverse leadership.
L.E.A.D.'s Year Round Programs
We provide our program participants with the following resources to achieve our mission:
Year round

academic & mentoring support

(measured, monitored accountability),
Year round

baseball training and competition

(athletic excellence and discipline)
Year round

community service

(leadership development and civic responsibility)
Year round enrichment activities (exposure to colleges, careers and commerce)
With all of the focus on high stakes testing in our schools, we've forgotten one of the more basic and essential lessons that our children must learn in life – how to value themselves and others.
The game changer in our year round programming is the Core Value Training that we provide our young men. Through our six Core Values – excellence, humility, integrity, loyalty, stewardship, teamwork – we provide them with a new lens to see themselves, others and the world around them. The result is a Mindset Shift: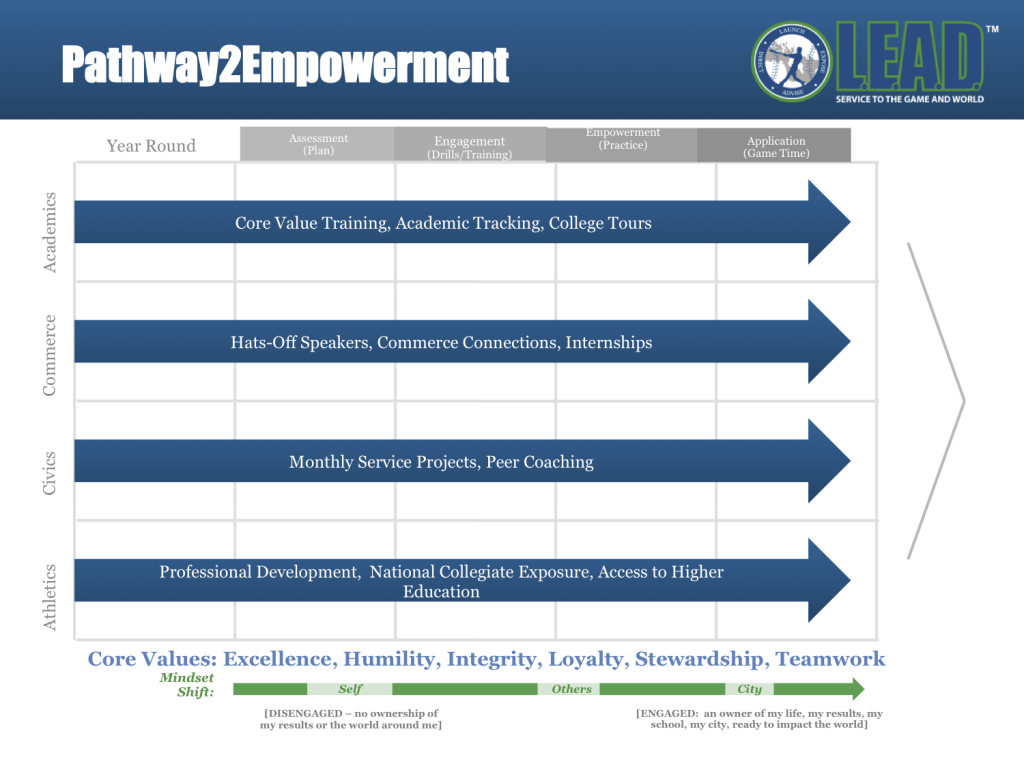 A Language For Leadership
Habitudes® for Athletes is a unique leadership training curriculum specifically designed to prepare student athletes for excellence in both their sport and life after school. All of L.E.A.D.'s middle and high school programs incorporate Habitudes into our Core Value Training.
Through ongoing program development, we have created the following check points by which our programs are created and evaluated:
Establish value – In order to have a relationship with youth, you must first establish that you have something of value to them
Consistent delivery & interaction – Once you establish to youth that you have something of value, you must deliver it consistently and frequently.
Build relationship – The established value, delivered consistently and frequently allows you to build a trusting relationship; now you have influence in their lives. Relationship is the prerequisite for sustainable change.
Effectively mentor – Once you earn trust and influence, then you can begin to properly mentor and bring about sustainable change in the lives of the youth you serve.
L.E.A.D. programming is effective because athletics (baseball) is our value proposition, we deliver year round programs (over 90% delivered during Out of School Time hours) that include professional baseball training, competition and mentoring which allow us to build trusting relationships and influence with the youth we serve. Through the earned trust and influence, we are able to mentor and effect positive, sustainable change.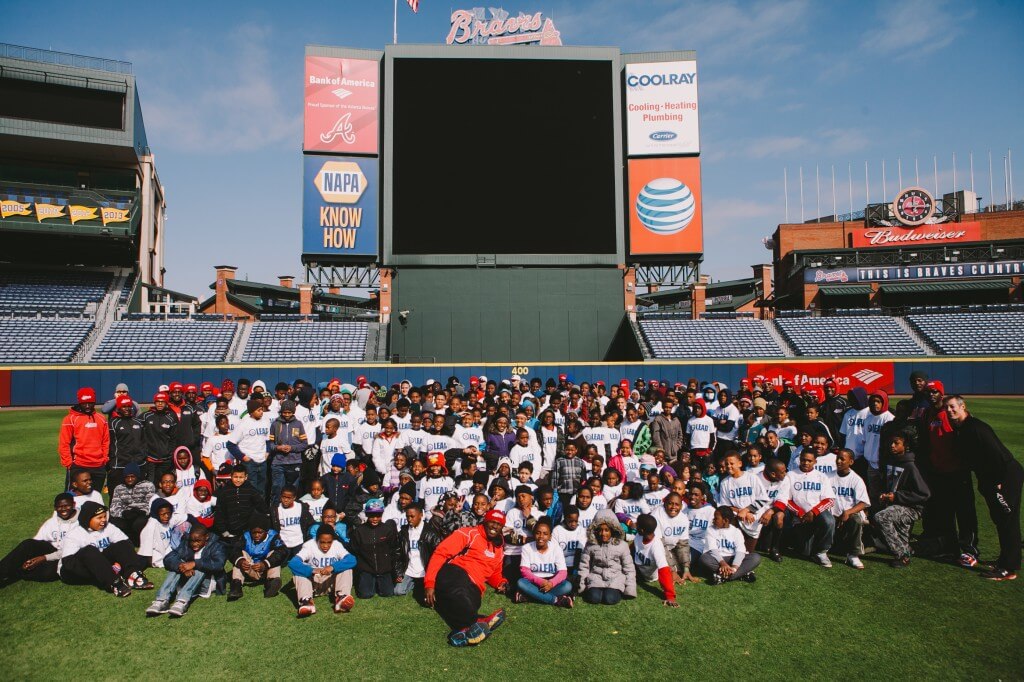 L.E.A.D. is focused on using its programming and resources to positively impact public education in Atlanta and across the nation. In 2009, L.E.A.D. formed a partnership with Atlanta Public Schools (APS) through the Atlanta Partners For Education Program. Since becoming a partner, L.E.A.D. has grown from serving 50 student-athletes to serving over 500 APS student-athletes through programming and partnerships. Currently L.E.A.D. has partnerships with the various middle and high schools in APS.
We are especially grateful for our partnership at the historic Booker T. Washington High School, the home base for LEAD's programming.
If your school would like more information about LEAD Programs, contact Kelli Stewart.